June 11, 2013
World Premiere of Keith Fitch Work in NYC June 17
---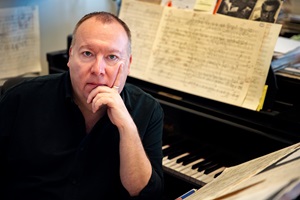 Composer and head of the CIM composition department Keith Fitch will be in New York City for the League of Composers ISCM season finale concert June 17, at which his League-commissioned work In Memory (2013) will have its world premiere.
Season Finale 2013: Reflections & Memories
Hosted by John Schaefer
Monday, June 17 at 8 p.m.
Louis Karchin and James Baker, conductors
Oboist Liang Wang and soprano Sharon Harms, soloists
Robert Riggs, guest speaker
Miller Theatre, Columbia University
2960 Broadway, New York City
In addition to Fitch's new composition, the following works will be performed:
Bruce Adolphe Crossing Broadway (2007)
Eve Beglarian Waiting for Billy Floyd (2010)
Wang Jie Oboe Concerto for the Genuine Hearts of Sadness (2013, world premiere, League commission)
Elliott Carter Call (2003)
Leon Kirchner Suite from Lily (1973)
The League of Composers/ISCM seeks to have "new music" (20th and 21st century) play a more prominent role and obtain a more appreciated place in the lives of the concert music-loving public. The League's mission is to engage audiences by presenting performances of new music of the highest caliber written by emerging and established living composers in the context of 20th and 21st century masterpieces.
For more information or to purchase tickets, visit leagueofcomposers.org.